Durat sink selection
Our sink collection has almost thirty different sink models, both integrated sinks and washbasins which can be placed on any surface.
AN EXTENSIVE SINK COLLECTION
Durat sinks are available in round, oval or rectangular shapes. Each sink is seamlessly fixed to the underside of the countertop sheet. For kitchen sinks, we recommend models Block IV (size: 500 x 350 x 158 (+12)) or Block XIV (size: 400 x 350 x 188 (+12)). As these are deeper than other sinks, these are the most suitable models for washing dishes.
It is possible to lower the Block sinks to a depth of 70 mm. (Normally 130 mm.) By gluing the sheet, the sinks can be deepened by a maximum of 20 mm.
Durat sinks are cast in a mold to ensure the durability of the sink in use. We also manufacture custom-made sinks for an additional fee, ask for more information about our sales.
The sink comes with a drain, overflow and a drain trap. However, all kinds of tap models, bottom valves and overflow covers can be combined with Durat sinks and countertops.
There is a slope of 5-10 mm from edge to bottom valve. The bottom valve is generally placed in the center of the sink.
The overflow hole can be placed in sinks according to the designer's wishes.
Sinks can be installed lengthwise, crosswide or, if necessary, even diagonally, if it's necessary due to the size of the countertop or the furniture below. On a countertop it is possible to install multiple sinks on the row.
The seamless joints between the Durat sink and countertop create impressive vanity units. Patterns with large speckles of colour (e.g. the Palace collection) do not recur exactly the same in vanity units. Large speckles are less visible on sinks than on countertops. Therefore, it will match in tone and colour, but will not have a perfectly uniform appearance with the speckle pattern.
Durat countertops and sinks are easy to keep clean, but kitchen sinks made in the lightest colours require a bit of a special care. Staining substances such as coffee and tea can leave stains in the basins. Therefore, it is recommended to run the water from the tap when pouring coloring liquids into the basin. However, possible ingrained stains can always be cleaned.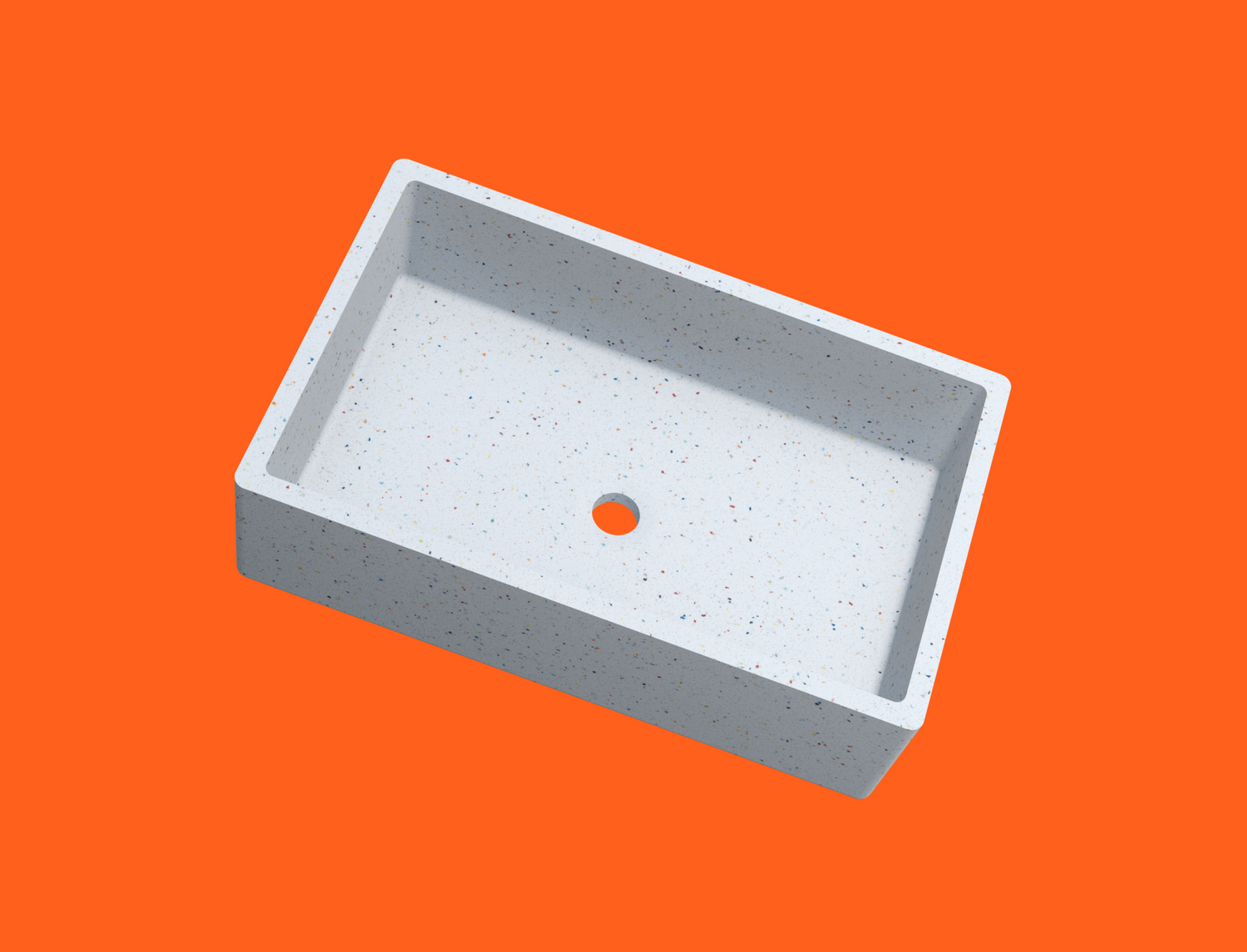 Sink collection
Our versatile sink collection offers almost thirty different sink models. There are size options from small to 1790 mm sinks.
Durat vanity tops can be installed on top of units or wall mounted with brackets.

View the sink collection
References
Durat can be used variously even in demanding locations.
Durat is an excellent choice when distinctive appearance, durability, environmentally friendly solutions and easy maintenance are required.
Explore our references